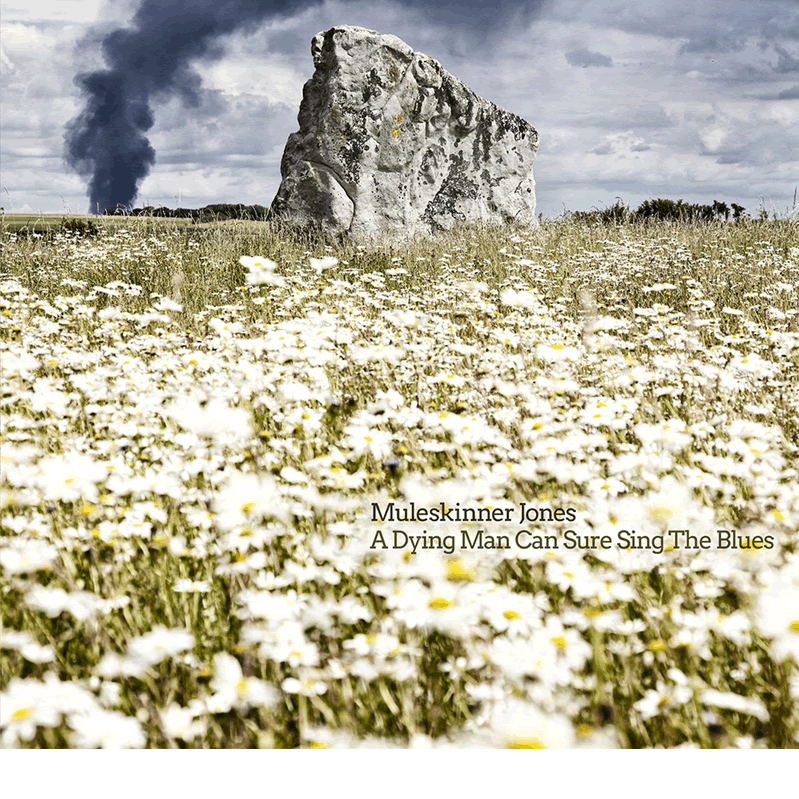 Muleskinner Jones
Muleskinner Jones is an enigma. And we love him. Here's what we thought of A Dying Man Can Sure Sing The Blues, his latest album, released on RedMeatRecords.
It's been a while since we've had the pleasure of putting on a new Muleskinner Jones album, and from the very first it feels like putting on the warm cosy Christmas jumper. Albeit, the one that's been sitting in a box in the attic waiting for the mystery blood splatters caused by incidents never to be spoken about again to crisp and blend into Rudolph's nose.

And on that cheery note we kick off with Don't Open The Mail. Advice that touches each and every one of us. Or at least those with sense to heed those wise words. What is the world coming to is the main hook, performed alongside that crazy little blues hook that I can never remember the name of but it's the one Deep Purple ripped for Black Night. Fortunately, at the 3 minute mark that riff goes into a fantastic little freeform jazz section moving onwards to drunken shouting (as credited on the album sleeve) to finish it up.

It's a great introduction to what so far promises to be a great album. But when track two comes along, A Dying Man Can Sure Sing The Blues, things starts to show that this album has got substantial songwriting talents behind it, and to be honest from track two I got completely lost with this album. Black River Wood shows all the English sensibilities of a no-doubt serial killer catching an oft neglected spot of sun, twirling in the daisies in a brief respite before going back to the real job...

Which is where we pick things up in Song of The Rain, which just about covers everything you'd want in a Muleskinner Jones track - orchestral backing vocals, electric guitars, big drums, dark (oh so dark) lyrics... In fact it's the vocal choir that really make this album and they really bring their all to the finale of this track.

I have to say though, that I've had Too Many Horses Around (A True Story) in my head since I first received this album. It brings me back to very first Muleskinner EP that I had the pleasure of listening to. And I'm glad that Mr Jones took his time (so the story goes!) to learn banjo for this track. It's a classic in dark storytelling with an upbeat country feel.

And as dark storytelling goes, Bad Timing is one of the best. I'm not going to reveal the twist, as it's a great listen at just over six and a half minutes, but suffice to say you're going to love the journey. An almost James like vibe to the first three minutes - although I can't imagine Tim Booth singing that low! - is suddenly broken when a Containe like section bursts in and the song just keeps raising up and up, only to be brought back with an obviously knackered Jim Glennie asking for some respite. Again, these haunting choir vocals make an appearance and only serve to send shivers down the spine.

War isn't funny. But I'm sorry, I can't help but chuckle along with some of the lyrics in the next track The Homesick Soldier. And I'll be honest, if I was in any of the situations the song depicts, I'd be having a wry laugh at my desperate situation: And this song's for all of the fathers. Yeah this song's for all of the sons. Who died all alone, in some shithole far from home, sure that this war would be the last one.

When I was listening to The Heavy, I loved some of their dark sounding songs. And for some reason, I keep relating the next track Little Dead Riding Hood to Short Change Hero. Okay, it sounds nothing like it, but musically this track really reminds me of The Heavy. It's a haunted-house movie soundtrack bar none. If an indie film maker doesn't pick this music up for a lurching zombie House of The Dead film, then shame on them. Shame.

Continuing the House of The Dead sounds is Hour of The Blood-Orchid. The bass is enough to curdle blood at a thousand paces, and thankfully the track is built around this monstering, crimson killing bass guitar riff. That is, until halfway through we shift to double time and a dirty, rough, and utterly fantastic near ska episode. I can only picture the killer on the run at this point.

And thankfully, should the killer have been on the run, it looks like he's escaped and is completely ecstatic with our final track Mid-Life Misanthropy Blues. When I say happy, it's in true Muleskinner happiness, Don't kill the children, go for the wife...Don't care for family, don't care for friends, don't care for family don't care for friends, they might stick by your side while things are alright, but they'll all let you down in the end...

This has been a rip-roaring ride through the recent life and times of Muleskinner Jones. A move to the country may have mellowed him out and given him proper English sensibilities, the lure of Americana cannot be denied. He's always on the run, and let's hope he settles down somewhere else long enough to give us the next installment.

We can't recommend this album enough.

Please, please please listen to this stuff.
Share
Tweet