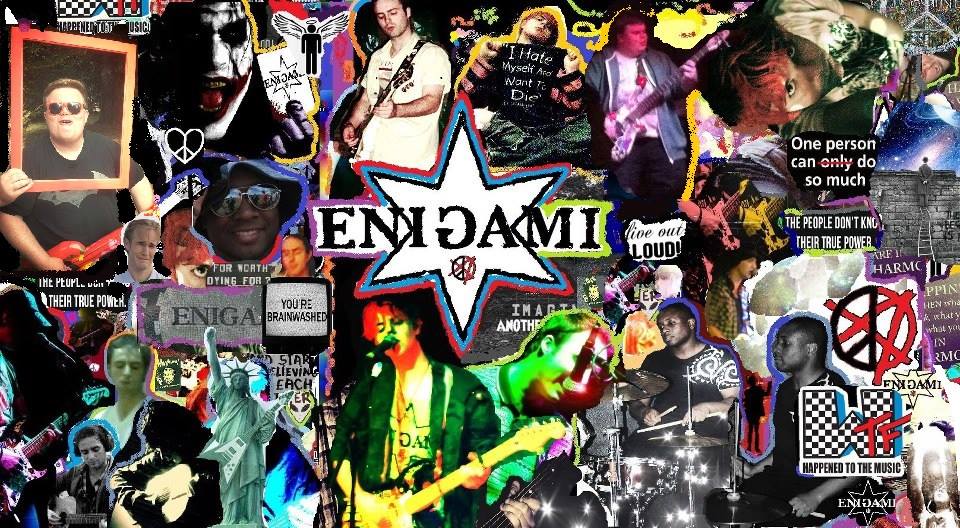 ENIGAMI INTERVIEW
We recently reviewed the new EP from Enigami, so we thought we'd give you a bit of background about the guys. We'll let them introduce themselves: Enigami are 3 guys from Glasgow who essentially want to be one of the greatest bands of all time, they don't believe in being pretentious or snobby with their sounds, they want to make the best music and write the best songs ever that reach as many people as possible while maintaining their punk rock roots, they basically want to turn people on and blow minds including their own by writing and performing songs that talk about things that mean something in today's world, they aren't afraid of talking about big subjects like religion or politics as singer/song writer Indy (Jay) Robertson is hell bent on changing the world for the better and inspiring people to be themselves.
I remember we put you guys on at Pivo a good while back - what was the reason for waiting until just recently for releasing the EP?
The main reason we have taken till now to release an e.p is that the band hadn't really found it's sound up till now, before now the band has always struggled to choose who we wanted to be when playing live, I write so many songs in so many different vibes that the people in the band always liked different ones so when we played live the vibe was always kinda varied so we never really could choose 3 or 4 songs to make an e.p as we had a backlog of about 50 great tracks, the turning point came at a gig we did in Maggie May's when our previous bassist Ian was in the group, I broke a string into the second track and I didn't have a replacement so basically I told the guys to drop the slower numbers from the rest of the set and just go mental on the more punky tracks we had, we played the rest of the gig with a broken string and people were going ape shit, that reminded me of why I started a band in the first place, after that we decided to just focus on creating the most exiting sound possible and ease off on the more contemplative songs, now when we play the band is completely tuned into each other and just playing to melt faces and have fun, which is what I always wanted the band to be. Jay
Could you give me some more info on the tour? Where will you be heading? Is this tour organised by yourselves or are you teaming up with some other folks for certain stages?
Well the tour isn't a definite as of yet, if it comes to fruition it's looking like August/September time. We are currently discussion the idea of taking on a manager as the workload for me has become.. bloody annoying haha, so if the tour comes to fruition then it will be after we get someone to book it for us, we have been in talks with one dude who was once in a band managed by that crazy dude who managed the runaways that was played by Rhys Ifans in the movie, he seems a cool guy just hope he wont make us practise while throwing beer bottles at us... Jay
What's your thoughts on the Glasgow music scene in general? We've been hearing conflicting opinions about whether there is a "scene" any more or not from a few folks. Are there any other cities that you think are up and coming with new music?
There are some great bands in Glasgow right now, many of who I would count amongst my favourite artists. Glasgow is great because there are so many venues offering so many musical choices; some offering free gigs every night of the week. I do think there might be a slight issue with over-saturation, but I'd really rather have too many good bands than too few. Dundee seems to be popping out some really kickass bands. I personally have a serious obsession with the mighty Fat Goth! Eddy
I feel Glasgow has a pretty healthy music scene... The best word I can use for it is solid, I have sometimes felt that a lot of the bands in Glasgow have been rather boring and same-y, but not recently: I came across two other bands whose music I wish I would have made myself, bands like Russian brides and Eugenes Lair. Ikenna
I honestly believe Glasgow has one of the greatest music scenes in the world, band wise! I just wish people would appreciate that more than they seem to. Jay
What's the best venue you've played in terms of audience feedback?
One of the coolest venues we played was one that is sadly no longer stairway the sound guy was awesome! a right sound guy ( see what I did there) and it looked like a place that could have been legendary if people actually went to it! that's hella annoying, but the best audience response was a recent gig we did at pivo pivo peops went crazy!, to be honest that venue a lot of the time is pretty tame but I think that's due to the seating in front of the stage,I think they should get rid of all those seats when there's bands on Jay
We played a really great show in Pivo Pivo. Many drinks were being drunk, there were loads of folk dancing up the front, hats were flying everywhere... wonderfully mad evening! It's great to have so many people loving life and enjoying your tunes! -Eddy I do remember some happy gigs in Pivo a few years ago. It was not by any means full, but the few that were there were very appreciative. We played a gig before that in Black Sparrow, near the Mitchell Library - with the same number of people - and it was very poor. The Pivo gig was much more fun. But yeah We have played there much more recently with Eddy on the bass for the first time and we had the crowd bouncing up and down throughout. That was quality!! Ikenna
Do you have any preference over using promoters or doing it yourself?
I'd like to be able to always do it ourselves but it's just a lot of work man, there is a problem with promoters because you never really know how they are going to be, we've had some truly awful experiences with some promoters and it seems like most of them are dickheads only looking out for themselves but then you get the odd one like new hellfire club for example who always seem to be doing it for the love in the same way the bands are, that's the way it should be man Jay
Both ways have their own good points and bad points. Doing it yourself definitely allows you more control over what you're doing, and leaves you free to do as you please. Whereas a promoter will (ideally) do all the hard work for you. Eddy
Obviously, promoters can be hit and miss. We have had recent experiences with disorganised and uncommunicative promoters, one of which resulted in us being sent home. However, it is very important to stay on good terms with as many as possible. IKenna
We thought we'd ask Jay for a bit more info about the new EP:
U killed me this song came to me in a state of daydream like conciousness, I was thinking about Kurt Cobain because I saw it was the anniversary of his death coming up and there was a debate about how he died ect going around social media, watching the movie Kurt and Courtney definitely did make me question the possibility of there being something more to the story other than suicide, there is a line in the song which points to the possibility of Courtney having something to do with it but it also has other meanings so much like the reality it can be taken many different ways, to me the song is more about how the world he lived in killed Kurt and not necessarily killed dead but killed him figuratively speaking.
killer bee on the face of it killer bee is a straight forward rockin love song, I wanted a song on the e.p that was just easy to appreciate and might get a few radio plays (which it has already) but it's not only a love song inspired by when I was first seeing my girlfriend but it's also about transmitting love as an energy to the world and not necessarily about a relationship between two people but one about allowing yourself to love and be loved, it's also a message to anyone who likes the band and fancy going on a journey with us to change the world I want to be with you I wonder if you want me too.
equilibrium the vision I have with this song is waking up in a future world where people are finding balance with each other and forgetting about things that divide us like politics or religion, I wrote it after hearing our ex bass player's mum use the word in a sentence and I thought that shit needs to be a song title the reason it was picked to be on the E.P is because it always goes down well live and we thought it would be a cool closer. The title of the e.p came from Eddy, in case you haven't figured it out I wont spoil the fun of realising, saying that there are still a lot of folk who haven't realised the deal with the band name... look at the symbol in a mirror folks!.
Thanks to the guys for taking the time to talk to us. Check the band out at the following links:
http://enigami.bandcamp.com/
https://www.facebook.com/enigamiband
Twitter@Enigamiband
Share
Tweet