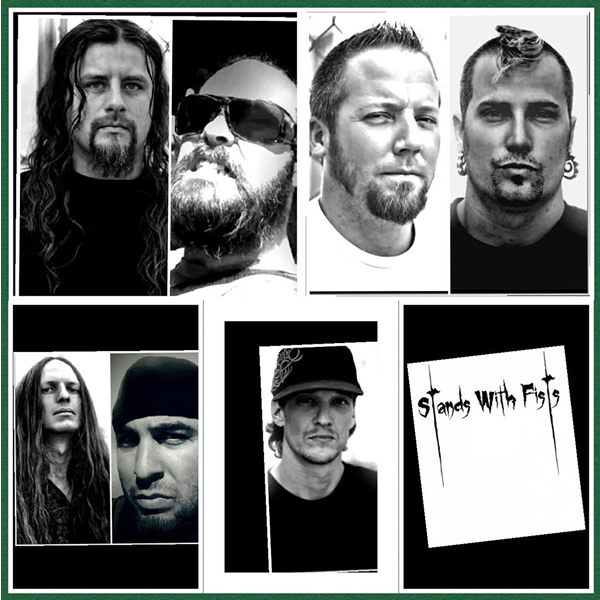 STANDS WITH FISTS
In the third of our IPORadio related features we caught up with Jon Russell, host of Music & Mayhem with co-host Mischief Madness. Rather than chat about his show however, we thought we'd find out more about his band, Stands With Fists
Hi Jon, thanks for taking time out to chat to us. We had a listen to your band, Stands With Fists and were mightily impressed - how did this all come about?
Stands with fists started 7 years ago. I was in a band called Blynd, a very strong writing band although a lot of my ideas were not that accepted. So when it ended, I started a group that I had control over but I was able to go from acoustic music to metal music without any complaints. That acoustic project eventually became Stands With Fists.
We recorded four albums and put them all on one record and called it Time Capsule. Two heavy albums and two soft albums made us very well rounded and allowed us to cross over to a lot of different fans.
4 years later we will be releasing our new EP as a pre campaign to the full length album. The EP is being mixed and mastered by Matt Good, an up-and-coming studio prodigy. Matt is also the singer/guitarist from From First To Last. They have a new release coming so definitely keep an eye out for them too... they are in the big ballpark!
Every song on the new album comes from a very sincere place within my soul... Life can hand out some painful cards, and I feel I was able to capture my feelings and truly put them into the music. The music will do all the talking for us and probably a lot of the marketing. I feel that this will change the flow in a more positive direction for us and the people around us.
But the best part is that each member of Stands With Fists is a great and true friend and that shines out and the music
It all sounds pretty exciting - do you have a name for the EP at the moment, and for those that haven't heard you guys before, how would you describe the bands' sound?
I'm aiming for the EP To be called Sgt Fister's Lonely Nights Club Band. Being a Beatles fan and fake Paul McCartney investigator, I like the idea but we all have to vote for the name so we will see!
I usually describe the band as soundtrack filming and music which is funny - I was told this last recording. We have our own genre and they called it cinematic. I found this to be strange but it stands to reason. In the past we were told we sounded like Korn or Tool. After not recording for 4 years apparently we developed our own sound. When I asked what band who or what do we sound like, they are confused usually say lot of different things!
Hey, sometimes it's good to have a sound that makes people stand up and notice! What's the fanbase like for SWF? Would you say you've got a loyal fanbase after the four year absence?
Locally, our fan base is in the multiple thousands. As far as the world is concerned I don't know - we're probably a really little band still. Hopefully this may change with the new release. I've had such a great response from the new CD and it hasn't even come out yet I feel confident that it will be well received
So what's the official launch date for the EP? And how will people be able to grab a copy of it (i.e. will it be available for download online or mainly physical copies?)
I am trying to discuss the actual date at the moment but they will be available online and physical copies. We will release one song called holiday on July 22nd for free download to build the launch of our campaign
So you also host Music & Mayhem - how did that come about? Have you found that interviewing various artists has been helpful in getting your own band's name known?
James Gypsy Nagy had hung out with me for about 3 or 4 years watching me push my dreams. At that point he said I was good karma and wanted see if I'd be interested in being a host of a TV show and I appreciated the fact that he watched and appreciated what I had done and was doing so I accepted
It hasn't helped as of this point as far as my band as I try not to talk about the fact that I'm a musician, but every once in awhile I can ask a question that might help my mind figure out a direction that I want to take the group
So is there anything else about the band you think we should know about?
I was trying to figure out a theme for the band, and a band that practiced in a room that we practice in had left neon string in the corner. From that came the idea of three dimensional black light glow shows.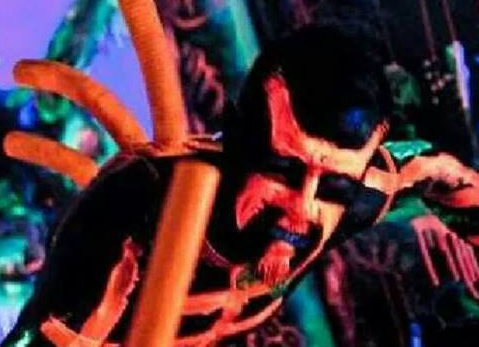 We create a multi dimensional world to perform in, with ChromaDepth 3D glasses - neon colours float off of skin in front of us and behind us - it's almost like a sixth dimension... The experience enhances the music big time, opening psychedelic doors for the audience. I've always appreciated black light shows, and I extremely appreciate 3-dimensional black light glow shows. I'm lucky to have a band that lets me do wild things like this
It started with just a little paint and has now ended up in a whole 3d world!
Thanks for chatting to us Jon, we're looking forward to hearing the new material! Anyone you'd like to give a shout out to?
I'd like to thank K and Z Entertainment, Matt Good at Good Sounds Studios, Gypsy Nagy, Vince at Kaboom and Doris Wilson for making all this possible for me, and also thanks to the band for being great brothers
Thanks to Jon for taking the time to talk to us. Find out more about Stands With Fists from the following links:
Official Website
Facebook
iTunes
Share
Tweet