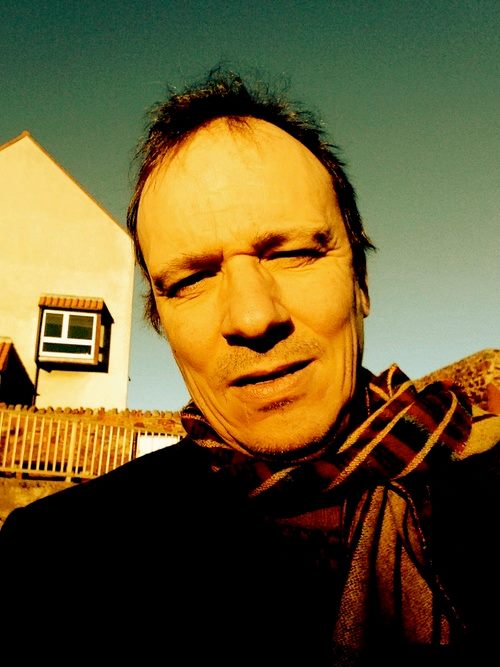 ROY MOLLER
We first stumbled across Roy when we reviewed his latest single at the time, Over Kansas, while he was part of Wow Kafe. It was good to catch up with Roy again recently when we had him on the bill at our last #liveisbetter event, so we thought we'd spend some time having a chat about all things musical...
First things first, if you can cast your mind back, do you think that our review of Wow Kafe's Over Kansas single summed you guys up?
Oh, yeah, definitely. I'm always in favour of being involved in the making of a stomping, powerful corker! I think Bulaka caught the ethos of the Wow Kafe with that review and it was good to see references to surf and jazz because most of us had those influences, too.
Yeah, I think we were going through a bit of a Man Or Astroman phase at the same time as well, so surf/rock was in the forefront of our minds!
Ah, great! I saw Man Or Astroman a couple of times and also Dick Dale and Link Wray. I love that twang! I saw a brilliant surf band at a campsite in Amsterdam once - that night ended my longest ever period of abstinence from booze. Being Amsterdam, it was going to end sooner or later but I find the sound of surf intoxicating and immediately fell off the wagon.
Anyway, The Wow Kafe made a second single, Betty Short's Smile and then recorded two unreleased sessions, one at Chem 19 and one with Mark Freegard at Kyoti Studio. I think we'd lost a bit of focus, though we had plenty of material to draw on. I'd had the chance to record a solo single for a German label and then a follow-up for a label in Yorkshire. Two singles in, I decided to call it a day with the band. I eventually got a solo album together and with my pals Stevie and Gary got a group called The Company together - a songwriting circle, really. We cut a glam rock track called Join The Dots for Slumberland and some of our other collaborations ended up on Stevie's album (I Can't Get No) Stevie Jackson. Stevie and I also ended up in a freakbeat outfit called The Store Keys with the guys from The Wellgreen. I made a second album which I stuck in a jiffy bag and sent to Marc Riley at 6Music with no real hope he's even get it. A couple of months later I came home from work one evening and the first track off the album's playing on the radio. On the back of that I did a live session on the Riley show and another one a year later with a band called Jesus, Baby! playing songs by the poet and playwright Michael Pedersen with Carla from Teen Canteen on keyboards, Marco from the Wellgreen on bass and Davy Henderson, from The Fire Engines, Nectarine No. 9 and The Sexual Objects on lead vocals. That was a lot of fun and we released a track called The Caterpillar Tango on Neu! Reekie! Records I've done three more albums in the past couple of years, the latest two on Edinburgh label, Stereogram. They're called One Domino and My Week Beats Your Year, which is the soundtrack to a show I was asked to perform at the Fringe by Hannah Lavery of Appletree Writers, a writing group in my new hometown of Dunbar. The show's about Lou Reed and me growing up with his music and influence.
We'd kind of seen you'd done some things in the time between WK and now, especially when we got your CV/Bio for the Evo gig. What's been the best thing you've been involved with? Is it the Lou Reed show or is there something else you're planning for the future?
The Lou Reed show was the most personally rewarding because I felt I had my own take on it and I could relate episodes direct from my own life so that was a liberating experience. I hope to perform it again and expand it. I really enjoy collaboration and I performed the show with Lach, who's a legendary New York anti-folk performer and is working really hard and effectively at invigorating the Edinburgh gig scene. Getting to be a member of Jesus, Baby! was a fantastic experience, too. If I had to pick out the very best thing, it would be playing guitar in The Store Keys while George Gallacher of The Poets belted out Louie, Louie from the vocal booth right next to me. We cut a single with him live in the studio and he was unbelievable and a real gent. George died suddenly before the record was released so it's a bittersweet memory but we all enjoyed working with him so much that's my personal favourite moment. He was like Kurt Cobain on Smells Like Teen Spirit, that powerful, and he was 68 at the time!
It sounds like you've managed to meet and perform with an amazing group of musicians - what do you think of the music scene currently? For instance, the recent Evo gig the majority of musicians that we chose were based in Edinburgh, yet at the same time we're told that the scene is based around Glasgow (attendance for gigs is a separate issue).
The live scene I guess goes through peaks and troughs but I always say you can't beat the craic at a Glasgow gig and you can't beat the craic in an Edinburgh pub. If Edinburgh could translate that to the gig scene it would do itself proud. There are guys like Lach really pushing for the scene to improve. It's always great to have Glasgow performers in Edinburgh and Edinburgh musicians in Glasgow and the East Coasters appreciate the venues in the west. The thing is I get the impression that some folk think there is a Glasgow 'scene' that runs unbroken from Postcard and includes Bellshill and East Kilbride and remains in the hands of boys with floppy fringes and girls with bobs and berets. Right from the start of my time in Glasgow I was up the reggae club, not the indie disco, and I had a completely different take on what was going on. I can't believe people are still buying into the supposed hipster thing, It's like an alternative form of tourism. I like diversity and Glasgow can certainly offer that. I think the Edinburgh music scene in general and the diversity of the Glasgow one need to be highlighted more. And other parts of Scotland, too.
So how did you make the journey from Wow Kafe to where you are now?
I sort of swung away from the idea of post-rock that The Wow Kafe put forward in the earlier stages of my solo efforts and explored my poppier side. I'm more and more drawn in my recordings lately to try and evoke things in the music itself as opposed to catchy verse and chorus stuff, though that part of me is still on display live and I stand by all my pop songs. I remember when I first saw the Synth Britannia documentary being struck by how keen some of the early synth pioneers were to evoke the cityscapes around them and I sort of wish I'd trodden that path from the outset. The Wow Kafe seemed to carry some of that feel with them and bringing to sense of environment into music is the way I see myself headed though in a more personal way than The Wow Kafe did.
So do you see yourself performing solo for the future, or will you be adding other musicians for performances?
As far as performance goes, I've been writing lot of poems and am planning to move more into poetry performance and I think at that point I'd prefer to add other musicians when I'm playing my songs to keep the two things different from each other. Plus it's fun interacting with other folk on stage.
It is tricky to get the right people. I don't think in The Wow Kafe I particularly shared musical taste with the other members but from the moment we started playing till at least midway through our lifespan we had an instinctive groove going. I have a few people I enjoy playing with and as I live in Dunbar and tend to work with musicians from Edinburgh and Glasgow logistics are tricky so it's important that we all get on as people and also that the other folk can pick things up quick. I'm pretty useless at picking things up so it's a case I'm afraid of asking more of the others than I can do myself but at the same time if I can supply a few tunes they enjoy playing we can all get something out of it.
Thanks to Roy for taking the time to talk to us. You can find out more about Roy from his Facebook site: https://www.facebook.com/pages/Roy-Moller/13138234900
Also, follow Roy on Twitter: https://twitter.com/RoysterMoller
Share
Tweet