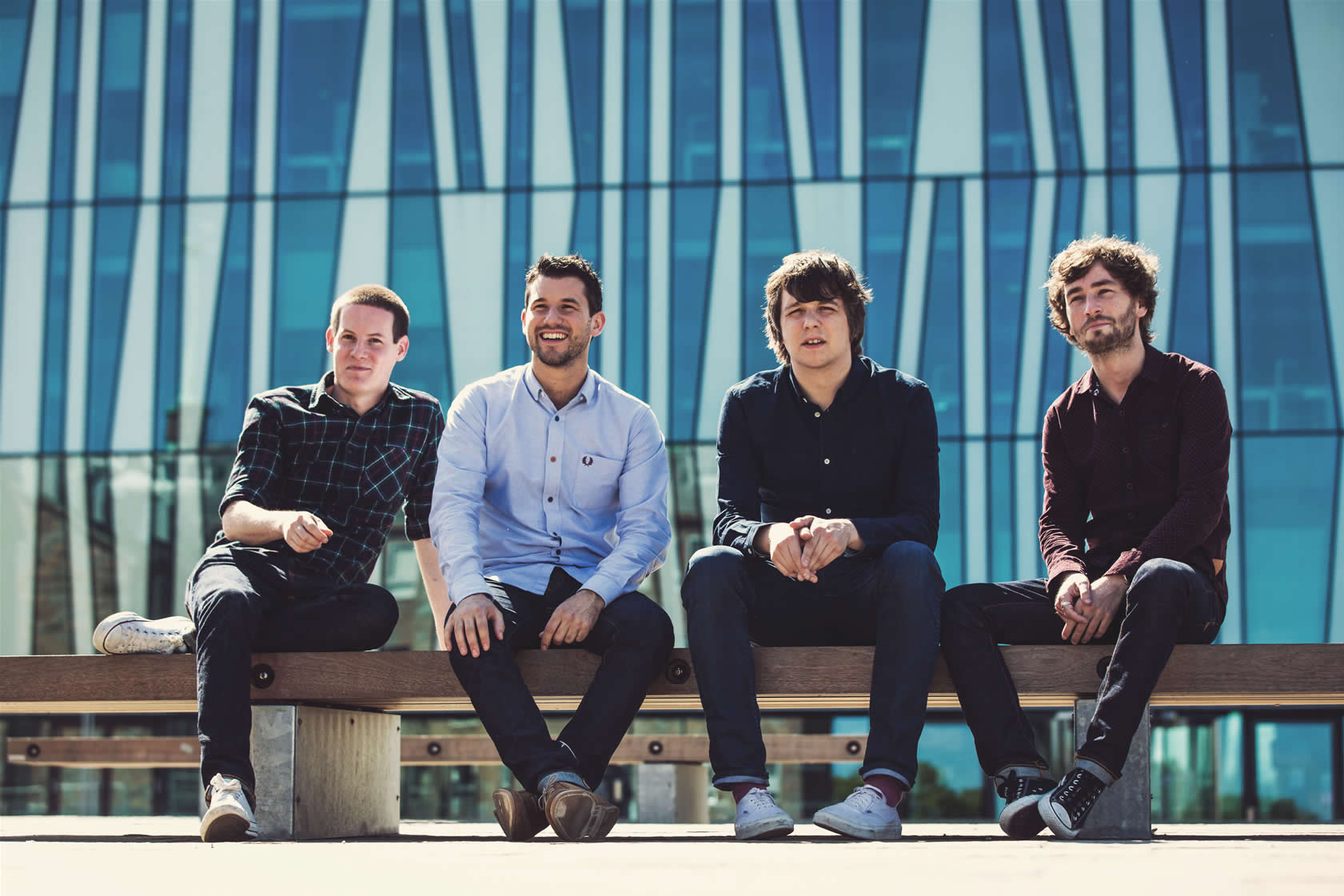 THE LITTLE KICKS
Scottish four-piece group, The Little Kicks, are known for their catchy upbeat indie pop songs. They've just launched their latest album, Put Your Love In Front Of Me, and we caught up with lead singer Steven to get his thoughts on how it all came together.
The album was recorded in Edinburgh's Depot Studios which is our favourite place to record. During our sessions we had a great time and enjoyed temporarily staying in Edinburgh while making the record. We stayed with a friend in Stockbridge and our daily routine would be a coffee there in the morning then hit the studio and create music all day.
In the studio there was a massive buzz when things came together and once we set out our brief of how we wanted the album to sound we found things came together pretty quickly. Our aim was to make a really warm sounding record using only physical effects (tape machines, echo boxes) as opposed to digital/ plug in tricks and to capture a good energy on the performances of the tracks so that it would have a great deal of life to the listener. We employed a LOT of vintage synths on the album as well as percussion which was a new thing for us but in truth it's something we've always flirted with in the past. I think our secret was the work we did prior to the studio -I had notes and notes on synth settings, guitar parts tabbed out and all the blueprints ready which made our time in the studio much more effective. As a unit prior to the studio we basically lived in our rehearsal room in Aberdeen.
After a day in the studio we would usually then frequent some of the local bars, record shops, cafes and get something nice to eat before hitting the hay and getting up again to do it all the next day. Some tracks took literally a day (All I Need) and some took months (Heartbreak 1 & 2) but it was by far the most enjoyable and productive time we have had as a band and bands cant always say that about their time in the studio!
The album was then mastered by Mandy Parnell who has a strong roster which includes Tame Impala, LCD Soundsystem and The Rapture among others and the artwork was by London artist Mark Mawson. Now that its finished we feel like we definitely made a great product which is pleasing both for the ear and also aesthetically to look at, (the vinyl looks great!), so it's been nice to now have something in our hands for all of our work!
Thanks to Steven for taking the time to talk to us.
You can find more about The Little Kicks from their website: thelittlekicks.co.uk
Since their formation the band have toured across the UK in their own right several times to a great response. The band have also played at festivals such as T in the Park, Belladrum, Insider and several other major Scottish music festivals
Over time the band have shared stages with the likes of Foals, The Vaccines, Frightened Rabbit, Glasvegas, Maximo Park, Mystery Jets, Errors, The Kooks, Editors, The Macabees and many more. The band has recorded live sessions for XFM, BBC Radio and have also been played on national radio by Nemone, Lauren Laverne,Steve Lamacq and Tom Robinson.
Share
Tweet