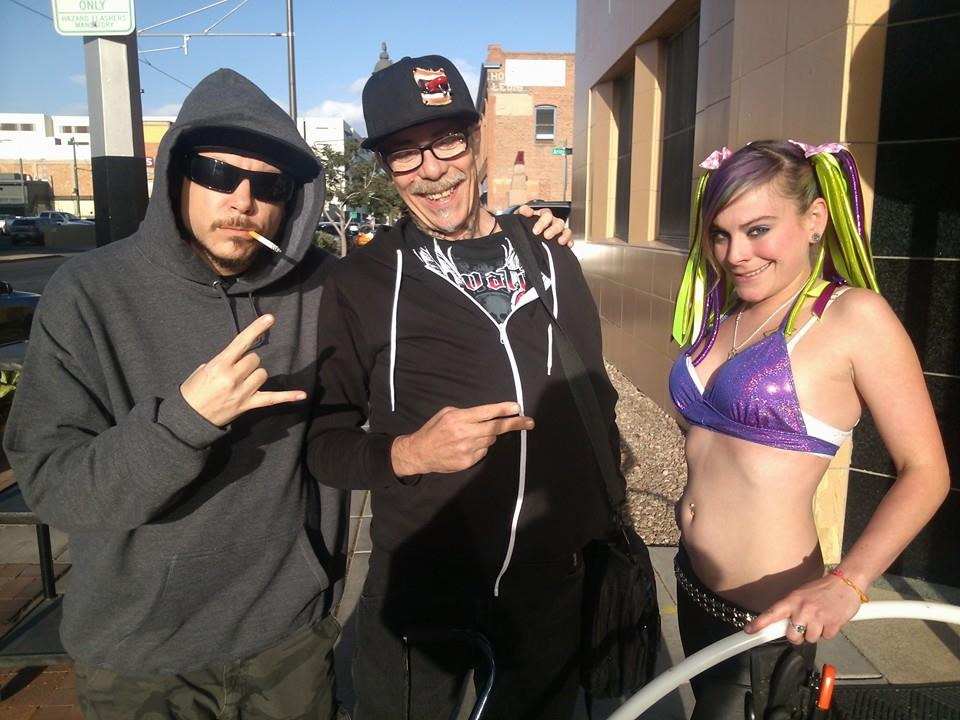 IPO RADIO
The internet (aka information superhighway/series of tubes) is a fantastic invention. Not only does it allow you to waste your entire life watching videos of cats falling off various bits of furniture, it also gives independant artists an unprecedented way of getting their music out to a wider audience than the local pub.
We know this first hand as a few months ago we were following the campaign trail of We Were Kings as they competed in the global Hard Rock Rising battle of the bands competition (the only UK band to make it to the final, we may add).
It was by chance that we found out the band would be getting airplay in USA, so we thought we'd check out who was behind the radio station - and that's what led us to Nate and Gypsy from IPORadio.
There has always been a musical empathy between the UK and the States, and when we tuned in to IPO that night we felt like we were in the company of people we'd know for years - the music they were playing was right up our street and not only was it something familiar, it also inspired us to track down some of the artists we'd only just been introduced to.
So far be it from Evo4 to just switch off the browser and do something else, we got in touch with the guys to find out just what makes them run an independant radio station that seems to have so much connection with the UK.
This idea of promoting independent bands on radio for me started a year ago when I presented an idea in Chicago to some radio manager that we promote independent artists/bands and have industry people critique and give advice, etc. I got Tommy Bolan lead guitarist for Warlock/Richie Ramone/N.Y.C to host a show, I got Sick Or Well to hold down 3rd chair and engineer, and I was producer and co-host. I went to Hollywood, California and did the pilot show. Only 2 stations were interested in helping the independent artists and the idea was put on the backburner so to speak (including logo and radio promo from show). Basically, The manager couldn't sell the show. Gypsy
I'm the Producer/Talent Co-ordinator for lead singer Jon Russell's Cable TV show Music & Mayhem With Jon Russell) I also interview al ot of the national acts ( mainly because I have 47 years in the biz and know most of the bands)

Well anyway, Nate and I were sitting at a local club having a pint and Nate says hey Gypsy we should do a radio station where we feature independent bands and artists. I'm like oh no not again, but during the next week the suggestion kept poppin into my brain and I started thinking about how we could do it and if it was feasible.

Nate and I met a week later and I said yes lets do it.. Its a perfect partnership between Nate and I. Nate is brilliant with web sites, computer programming, etc and I find the dj's, get the bands music, include a few labels/management companies/PR firms and mostly just include people I consider family and off to the races we went.

As of now we have close to 1200 songs from some great up'n'coming bands much like We Were Kings who work their ass off and deserve a shot at the national level. To Nate and I, it takes Hard Work, Good karma, and Very Good Music to succeed and we're there for those bands that need the assistance.

We don't take every band that's for sure, we literally poured through over 2000 songs through one site to find 46 bands that were worthy. We listen and critique every band we play although we don't critique on-air but we discuss all the bands together. Its a long process because most of the bands music aren't tagged properly for radio airplay. We have a free program that helps the musician tag his music on our site now. We have bands and music from all around the world, bands like Riot87 from Siberia, We Were Kings in the UK, and Cultivate Creative Sound from the states, Thats just an example.

I do what I do because I want to see the future of music. We're certainly not in it for the money thats for sure, within time though and we raise our listener rate then we'll attract more advertisers and then we'll make some money but the bands don't pay anything to get aired, although the bands do have to realize that whatever music they put out there will reflect directly on them.

A crappy recording, with bad or no production - because there are millions of bands out there - probably won't get listened to again. The product has to be good, plain and simple. We play EDM, rock, hip hop,metal and all sub genres which a lot of stations don't do. The reason we do is because we like all genres of music as long as its good. As a listener I dont want to listen to one genre all day everyday, so we mix it up. It really comes down to opening yourself up to different genres and music, it keeps us diverse and not complacent with the same music day in day out.

I listen to a couple stations and I hear the same song every 3 to 4 hours and it makes me want to gag.

Our game plan is to help as many independent artists as possible, make a little money from ads and hope we can go legit FM.

(Pictured above from left to right is DJ Tommy Firestone, Gypsy, and Hot'n'Wild DJ Tina Wells after their appearance on local TV show ArtFest)

Gypsy
Check out IPORadio online at http://iporadio.com/
Share
Tweet