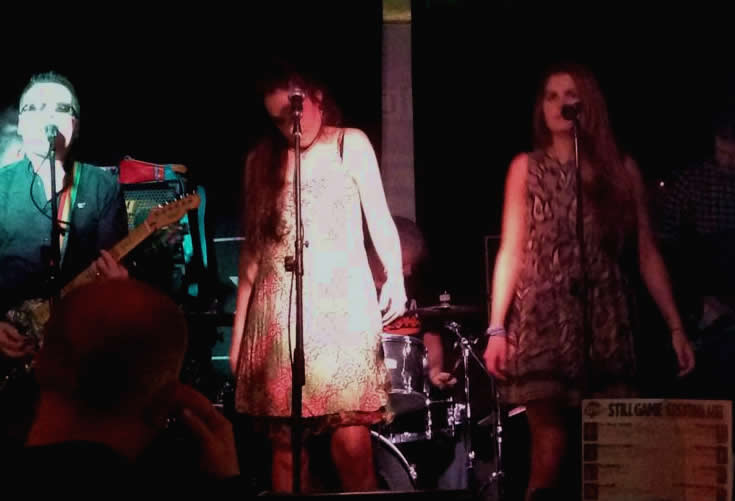 IFOUNDATION - REGGAE REVOLUTION
On the 31st of March, The iFoundation introduced Reggae Rock to the Glasgow music scene with their outrageous performance in Box.
I know, I know - Reggae isn't a hugely popular genre in Glasgow therefore it is extremely under-rated, however this band bring a twist to the original style of reggae and I definitely predict success in their future.
The band itself consists of seven members; vocalist/guitarist - Kyle Robertson, Vocalists - Paula Weir & Leanne Hood, Bassist - Andy Wood, Lead Guitar - Hamish Hay, Keys - Alex Sakulin and Drummer - Martin Walker. They all have their individual traits that come across in their music and performance. Each musician have exceptional personalities and this is shown through their positive energetic performance. It seems as though everyone in the band have a great bond of friendship and this is a strength which is critical for a successful band.
The rhythm of the music is extremely contagious. Like any other reggae song their beats are very head-boppy and hair swingy (adjectives will be more understood when listening to the band). The iFoundation bring a modern adjustment to their sounds with some psychedelic keys, Chuck Berry covers, distortion in instruments and most importantly their flawless vocals. Leanne Hood reminds me personally of an early Amy Winehouse. Leanne has a powerful voice which is especially recognised during one of The iFoundations I Adore You. Leanne is a very mature performer, during her performance her passion for singing shines through. In comparison to the sounds of the early Winehouse vocals, Paula brings soul vocals. Paula's voice is similar to the likes of Joss Stone - it is very modern and has a great dynamic range. The girl's harmonies were absolutely perfect, they certainly have a great working relationship and work off each other's talents terrifically. So as you can imagine a mix between the jazzy Winehouse and the soul sounds of Joss Stone completely work particularly well with this reggae beat. The male vocalist Kyle brings the reggae vocals. Kyle as such enthusiasm for reggae and this is apparent in his performances. He brings the entertainment factor to The iFoundation - the fun factor. Kyle is a great performer and musician, it is obvious he gives his all to his music. Kyle's rendition of Chuck Berry's Jonny Be Goode was like nothing I personally have heard before. Chuck Berry but Reggae? Yeah it works!
My favourite track from the night was Reggae Revolution. This epitomises the essence of the band. The band have already made it big down south (and have even played in the o2 arena), this revolution is slowly but most certainly moving up north to us here in Scotland. You can't help but want to head-bang and dance about when listening to their music. The iFoundation are definitely a band who I would highly recommend seeing live. Even if you are not interested in Reggae as a genre - I'd recommend you to at least try it out. The iFoundation is a band that will amaze you!
Good News! The iFoundation will be coming back to Box at the end of the month! They will be playing in Box again on the 26th of April. If their performance is anything like the one they put on at the end of March I can guarantee you, you will have a great night!
For more news on The iFoundation check out their pages;
https://soundcloud.com/ifoundation/sets/
http://ifoundationmusicproductions.com
Review by Chloe, 1st April 2014
Share
Tweet