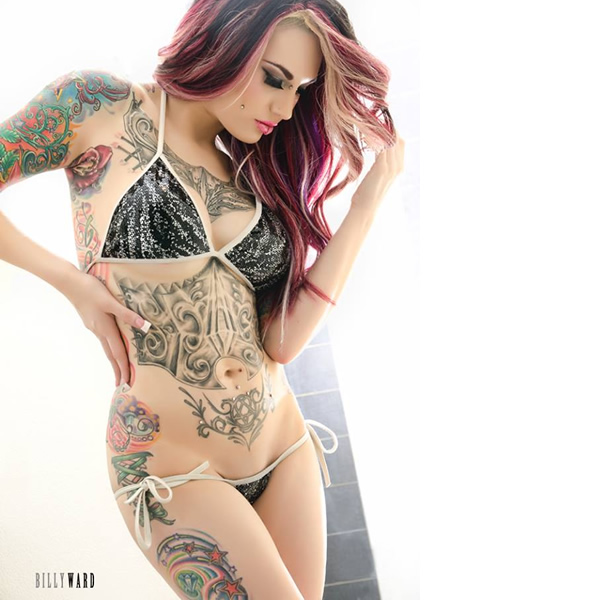 MISCHIEF MADNESS
Tucson, Arizona may not be overly familiar to our regular audience in the UK, but with a population similar in size to Glasgow this student city is awash with creativity and genuinely nice people. We recently featured IPORadio so we thought we'd have a chat with IPORadio member Mischief Madness about her role in all things music related. Not only does she feature on IPO, she also co-hosts an online entertainment show Music & Mayhem with Jon Russell. M&M is a southern AZ TV show that will become an online segment within a year.
How about we kick off with an intro queston: How did you get involved with Music & Mayhem? I'm guessing you've got a love of metal?
Jon Russell messaged me through Facebook and offered me a position alongside him on the show. I was skeptical at first since he came out of no where but he then introduced me to other members of the team like Gypsy the producer and Brad Phipps the videographer. We all just seemed to click very well that first day and I have been part of the team ever since.
I have been a metal head ever since I discovered metal when I was 11 years old. It began with Nu-Metal and progressed to heavier genres. I go to concerts regularly because it is when I am the happiest. The roar of the crowd, the jitters before the band gets on stage, the adrenaline from the mosh pit....is absolute heaven to me.
I can see where you're coming from with Gypsy, it felt like we'd known him and Nate for ages when we were working on the IPO Radio feature. Is there a good community of like-minded people over in Tucson?
Tucson has a little bit of everything because of the diversity of the student demographic. The U of A is the driving force behind this sleepy town, otherwise it would be quite dead year round like how it is in summer. It seems though, that at every concert I attend I see the same familiar faces. Last time I went to a show everyone was saying hello and giving me high fives. I know I have met them before despite me not knowing their name. As cheesy as it sounds, it feels like family #tucsonmetalfamily. We all know and support each other in some way. Tucson is small enough where everyone knows everyone else and if you don't know someone about 20 people you do know will know that person. Some people hate it because it leaves little privacy, I personally love Tucson for this reason.
Sounds very much like Glasgow (in fact, just checked google for the population sizes and Tucson is only a little bit smaller). In a way it's good that you will in some way know someone else, whether that be through a friend of a friend or direct, but we still find that people still operate in little pockets. How much of an influence do you feel the broadcasts have locally? Are there any particular guests you've had on that you're proud of?
Music & Mayhem has had a bigger influence locally than IPO Radio. IPO Radio is soon to launch and we cover independent artists all over the world. M&M has aired on Tucson's Public Access channel for over 3 years. We have covered local shows and covered national acts. Unfortunately, the Public Access station is closing in about 6 months leaving M&M up in the air. We have thrown free shows with local acts for the public to attend. We support our local talent and the free shows allow us to promote them and have fun while we do it! I am especially proud that I we have covered all the lead acts in Metalcore like Upon a Burning Body, The Black Dahlia Murder, All Shall Perish just to name a few. I think my biggest interview to date was with Vader. I was so star struck I barely knew what do say!
So are there any plans to keep the production of M&M going once the station closes?
Yes. We are switching to a digital server and will be collaborating with IPO Radio to keep M&M alive
We couldn't help but notice you also do other things outside music journalism - how did that come about, and if you could choose what would be the ideal career (assuming you could only choose one!)
Modelling came first about three years ago. Just kind of fell into it when photographers kept wanting to shoot my tattoos. I have also performed as a flesh hook suspension artist but have left the team to focus on modelling/music journalism. I have my degree in Funeral Service and plan to go back into the industry after August to complete getting my embalmer's license. My ideal career would be radio. Music television seems to be dying on national television broadcasting. Even MTV isn't what it used to be ten years ago. Radio hasn't really changed since it began there will always be a demand for it.
We have to say, we never knew you could get a qualification in embalming! Wow! There also seems to be a growth in online independent radio as well recently, not just thrown together shows, but actually well thought out professional efforts - and one of the things we loved about IPO was that they were more than happy to embrace music from the UK. It's one of the things we were talking about with the guys, if there is any way that Evo4 and IPO could work together to help promote more artists.
Totally! Teamwork makes the dream work
Thanks to Mischief Madness for taking the time to talk to us. Check her out at the following links:
Music & Mayhem with Jon Russell - http://accesstucson.org/programming/project/6786/
http://www.mischiefmadness.com/
http://www.facebook.com/mischiefmadnessmodel
https://twitter.com/MadnessMischief
There's also a great feature with Mischief Madness in the latest edition of Inkspired Magazine
Share
Tweet